What is Shen Yun that Master of Ceremony (MC) Thanh Bach shared in a touching way: "If there are so many dreams in our lives, there's this show that is more beautiful than the dreams"?
Not only MC Thanh Bach, but also a lot of guests attending the Event to Learn about Shen Yun Performing Arts organized on Wednesday, March 27 by Vietnam United States (Viet My) Traditional Culture Company at Sofitel Saigon Plaza Hotel, were really overwhelmed noticing that such kind of high-end art form was available in this world.
Having had the opportunity to enjoy one of Shen Yun's live performances, choreographer John Huy Tran still felt impressed and touched while sharing his appreciation:
"I watched the show in Canada 2 years ago. The whole program was amazing. I seemed to forget all other things while watching it, for it was so magical!"
Participating in a dialogue during  the event, choreographer, Meritorious Artist Tran Phu exclaimed:
"As for me, tonight presentation can be briefly described with a word: Amazing! Honestly, people at my age could only perceive how great ancient Chinese culture was through such works of literature as the famous novels of Dream of the Red Chamber, Dongzhou Lieguo Zhi, Journey to the West or the poems of Bai Juyi, Du Fu or Li Bai. But tonight we were so lucky to have the chance to watch and listen to the introduction of traditional Chinese dance. I have to say that it's extremely unique. In my opinion, everything is charming, everything is fascinating.  As in the MC's  introduction, they were Gods and Goddesses who danced, not human doing that. So elaborately, so masterful and so awesome."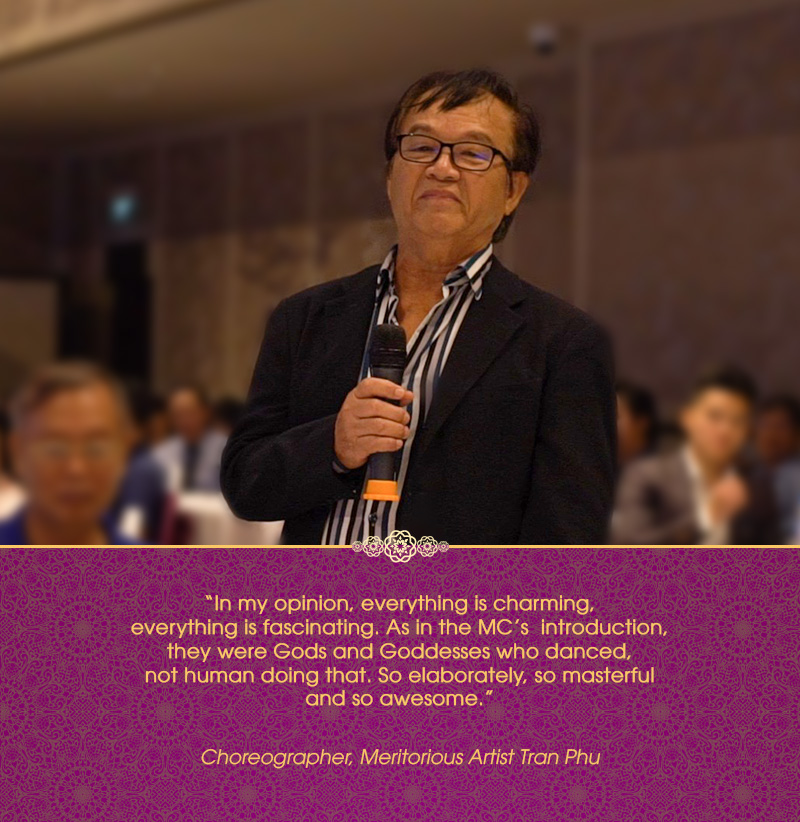 And Choreographer, Vice Chairman of Dancers Association, Chairman of the Art Council of Ho Chi Minh City Dancers Association, Meritorious Artist Dang Hung, expressed with his own prism that helped the guests attending the event to have a better overview of dance performance in general and Shen Yun Performing Arts in particular:
"Dance performance has it own characteristics. The first is movements, the second is lineup, the third is dance line, the fourth is bodies and the fifth is emotions – these five ones put together to form the dance language. In this performance, it is complete, so complete that we can count each one, each characteristic…"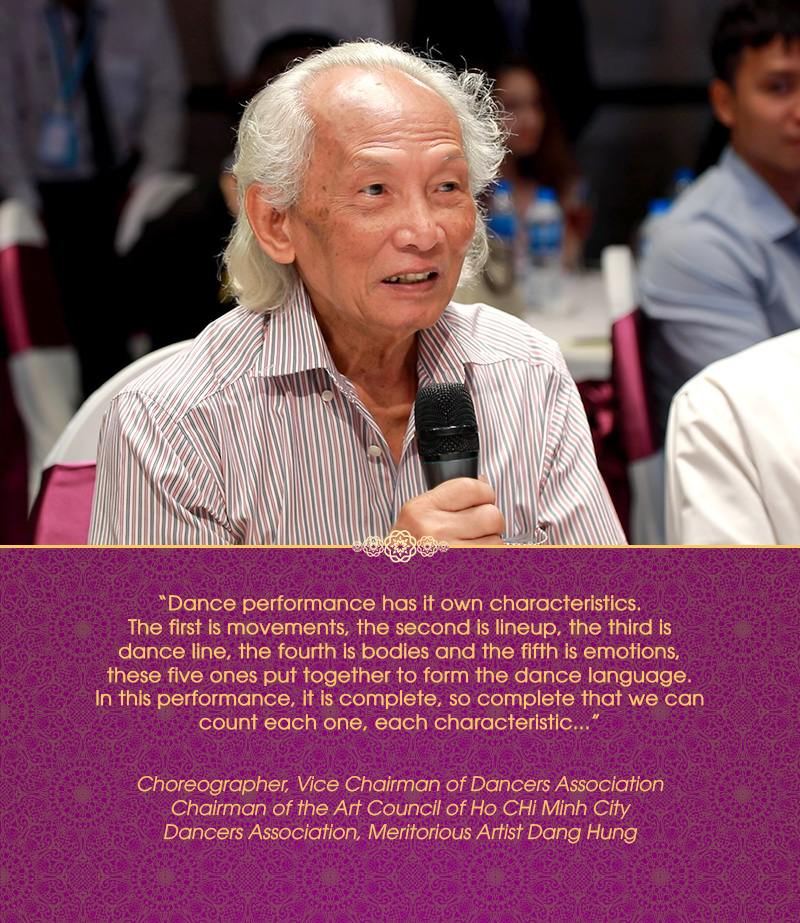 The veteran artist continued:
"Their techniques are to the level of virtuosity… The first is the thing of innate gift, the second is learning, the third is training and practising, the fourth is discovery and the fifth is creativity. These five elements put together to become capacity. For this performance, I reckon  it gets beyond capacity. To make it clearer and easier to grasp: incredible, beyond incredible!"
So what made those "incredible" artists, that, just by the Shen Yun dance performances, the audience seemed to be able to touch each and every emotion which was pure and full of vibe on both art and culture aspects like that?
What made the Shen Yun dancers?
1. Rigorous training and practices:
According to Meritorious Artist Dang Hung, it is rigorous training and practices, so much so that the dance techniques have become their instincts. Sharing the same appreciation, writers, literary critics, Former Chairman of Ho Chi Minh City Writers Association and Vice President of Vietnam Writers Association Le Quang Trang said:
"I am really impressed with the dance. Their choreography can be said of excellence and gets beyond all techniques. As a famous dance artist, my long time friend Dang Hung, said that it was beyond techniques, coming out as their instincts, reaching a very high standard in terms of art and wisdom."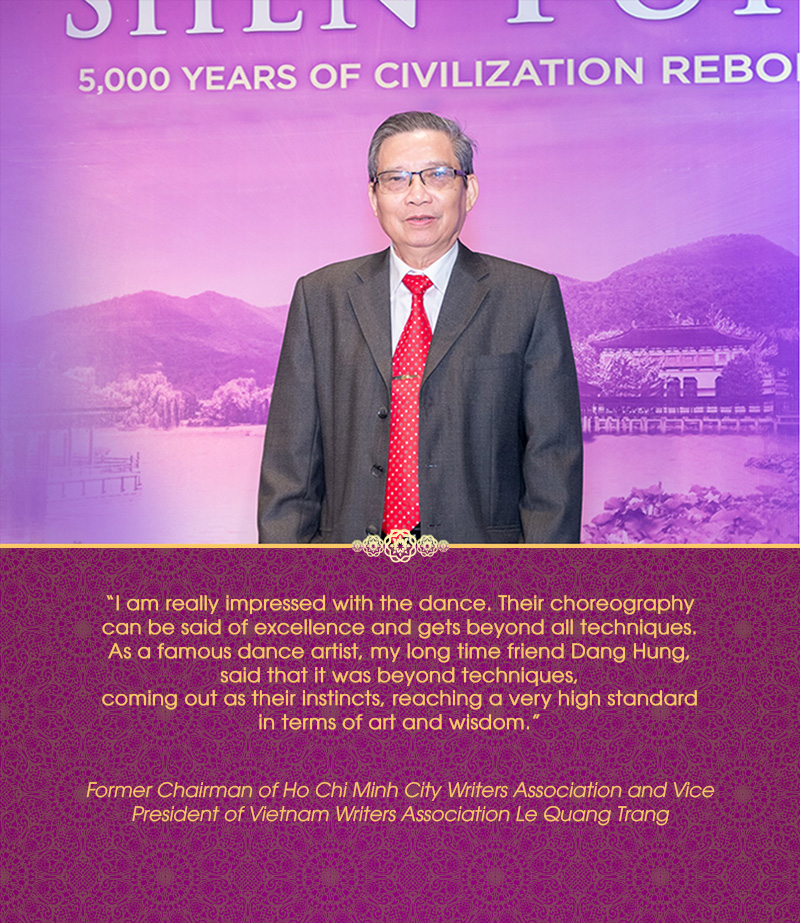 Director Tran Hoa Yen (VTV9, Vietnam Television) really admired the enthusiastic dedication of Shen Yun artists. She shared:
"True artists whenever they step on stage, they have to perform with their whole heart. It is said that artists must practice more than 200% offstage, so that on the stage they can make it 100%. But from the video clips, we learnt that the [Shen Yun] dancers even have paid 300% of their practising efforts to result a sublimation moment on stage. That is so respectful."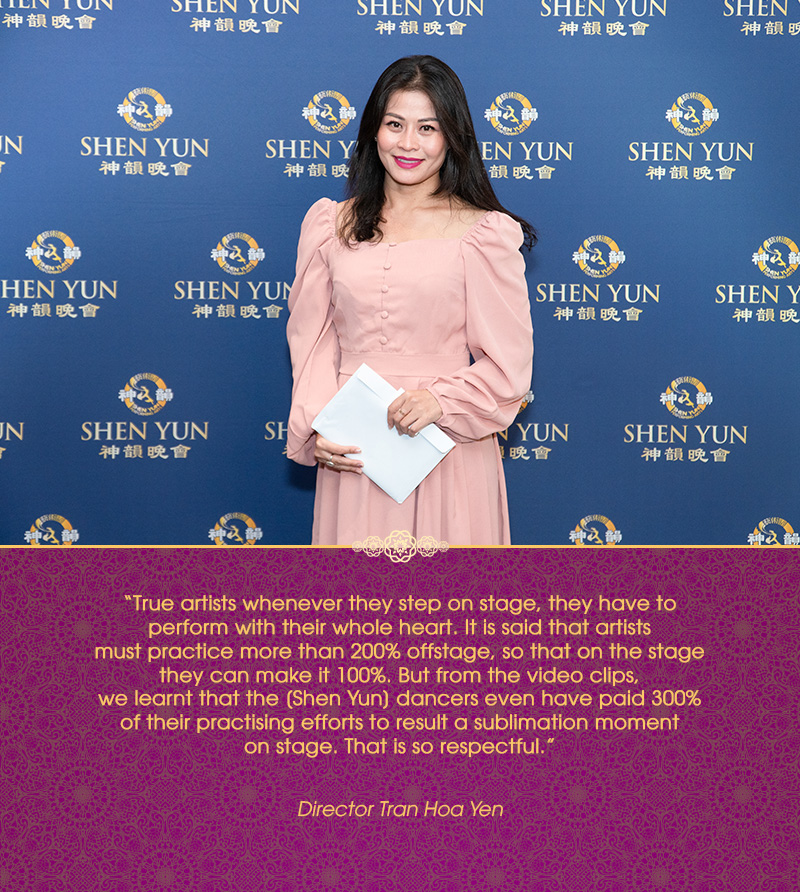 As an active person in the art field, MC Thanh Bach shared about the disciplining of the qualities of the artists:
"As long as there is any misstep on the stage caused by any artist, the quality of the whole group will be affected; a musician playing a wrong note, or , in not enough notes affects the whole group and the dance team as well. All of these things require very high standards which if they want to meet they are to try  their best efforts and to give their best. Then there comes the artists' sublimation, it's important to obtain the collective sublimation, from musicians to dancers, that sublimation makes the auditorium exploded. A sublimation helps to solve each of the audience's problems: health, psychology as well as spirit, etc… once they finish watching."
Having empathized with Shen Yun artists, Choreographers, Meritorious Artists Xuan Va said in a touch way:
"Sitting there watching sweats dropping down, it's so compassionate; that gives a very deep and real emotion. Therefore, watching them made me so much admire them, admire the  friends, younger brothers and sisters, even the small children on stage, who exuded sweat, tears, even blood, I don't know how to say it, I feel compassionate."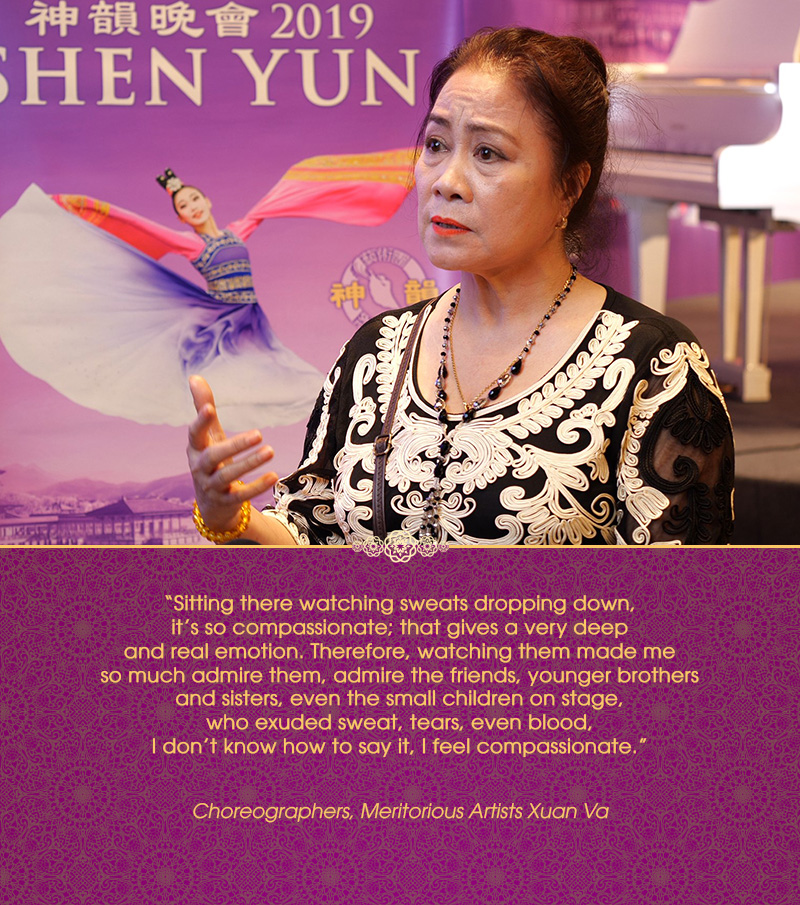 Verily, to be able to meet the standards of technique and skills for a Shen Yun dancer, it takes a mind of steel, and limbs of rubber; it takes pushing the body to its limits to know that the only limit is in the minds; it takes repeating the same move over and over and over again, it takes facing your deepest fears to conquer them, it takes falling over hundred times only to get back up a thousand more… .
"Pristine and perfect. You can see every single movement had been done hundreds, thousands of times, including the small movements such as tilting their head or placing their feet. You can see just complete display of discipline, you know they lay their whole heart and mind on their art. And it's amazing to see that, you can't enjoy them without admiring", Dancer Nicole Wong.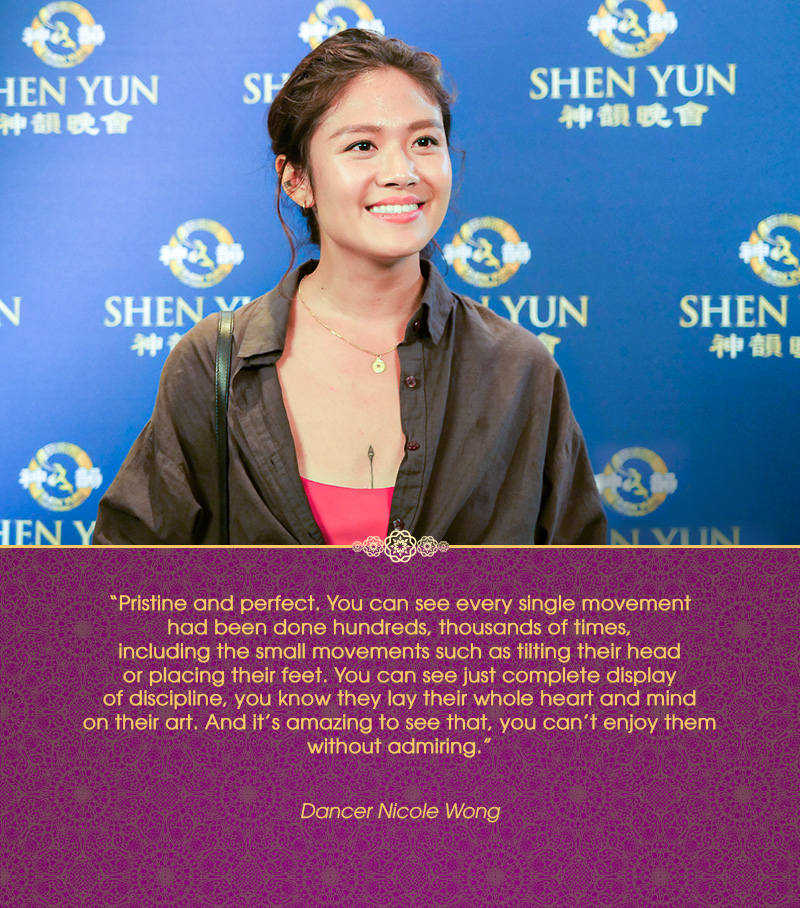 People's Physician, Prof. Dr. Nguyen Duc Cong, Director of Thong Nhat Hospital, Ho Chi Minh City not only exclaimed about techniques or performing level, but also sincerely shared his feelings about the Shen Yun artists' rigorous training and practices overcoming all their limits :
"I admired the rigorous training and practices of those artists, the choreographer's ingenuity, the creators of this program, who did combine various arts together. Through this, it can be seen that humans have incredible abilities and they are able to do things that seem to be impossible."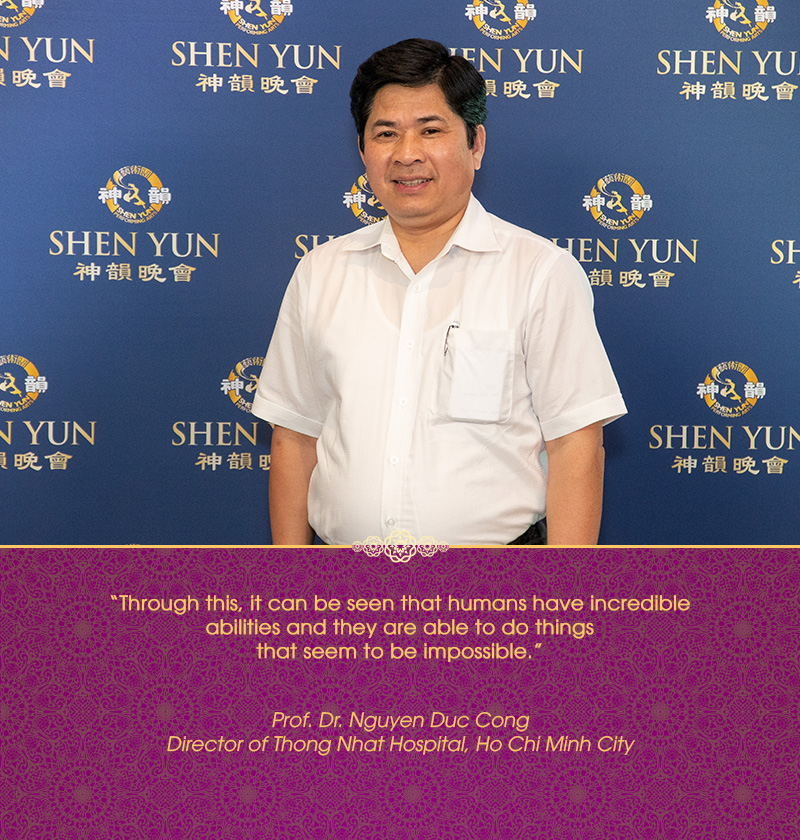 And yet, are the rigorous training and practices enough to make a Shen Yun artist? Dancer Ngoc Anh expressed her surprise at an interesting thing that she had acquired through the introduction event:
"What I (Ngoc Anh) was impressed the most is that when they talked about dance, about music, the thing they mentioned mostly about was the morality of a dancer, a musician or  whatever they say, they emphasized much about having to self-improve one's morality first. Before becoming a good actor, one must be a good person first."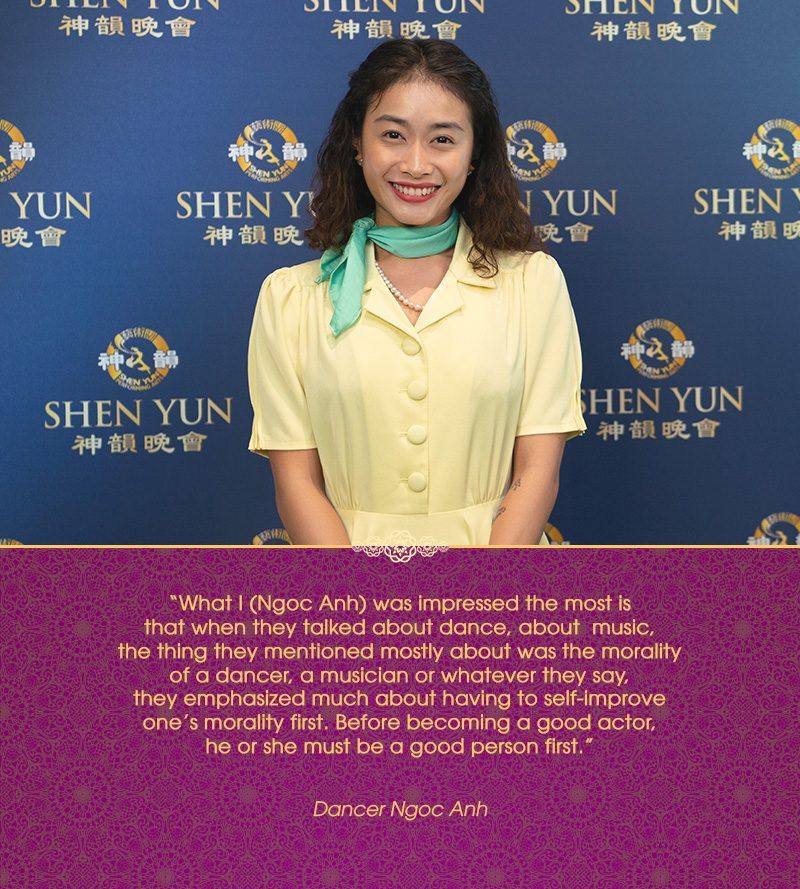 Rigorous training and practices, the will to persevere and immerse and being humble all the time with a pure and calm mind, those are possibly what each audience could feel about Shen Yun performers. It was the harmony from both souls and minds, the harmony of the desire to learn and the sincere humility. Perhaps that's why, after having the introduction of Shen Yun at the event, Prof.. Dr. Nguyen Duc Cong said:
"Shen Yun's beauty can be said to be wonderful for all human senses, it makes people love their lives, desire to live much more and feel their lives to be very beautiful."
2. Sublimation from inner self
MC Thanh Bach shared: "Just 1 minute on stage, who you are, how your inner self is, all can be seen by the audience". That's why when he was  a student, he was told by his teacher: "Expertise must come after morality which has to be learnt first. Because it's a long way."
Dancer Ngoc Anh excitedly shared more about her thoughts on the Shen Yun artists:
"Calm… For me (Ngoc Anh), they were so calm, even on stage, no matter what, if the hearts were not calm, then on the stage they wouldn't be in such a state."
Verily, the remarkable thing when watching Shen Yun that most audience around the world recognized was that the coordination is very precise and smooth between the orchestra and the performers, among the performers themselves in the performances, in each performance, each movement, each breath. When contemplating those repertoire, the audience felt as if they were not independent entities but a uniform body.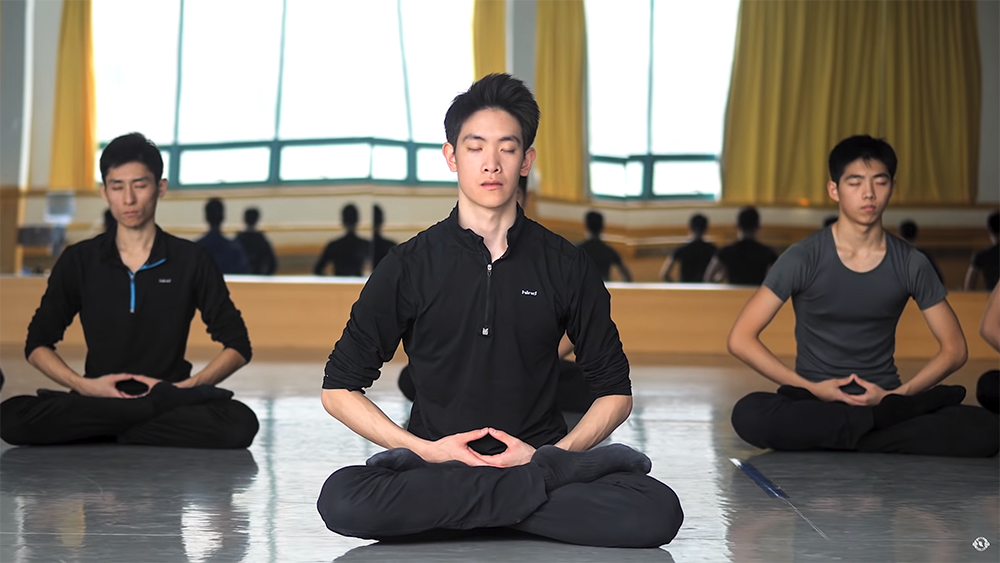 So how did Shen Yun do it? As shared by artists in Shen Yun Performing Arts, every single minute of everyday living, whether practicing or performing, each person must learn to let go of his ego first, to be humble and to understand that success is not by an individual but by the team spirit, learn how to assimilate the body and mind with universal values ​​ of Truthfulness-Benevolence-Patience, learn to better themselves before changing the world. The audience therefore will feel the smooth coordination without any individual disposition on the stage amongst the whole Shen Yun dance team. MC Thanh Bach shared:
 "When learning about the entire Shen Yun Performing Arts system, I felt that sympathy and mutual understanding are extremely important. If we do not have a connection to understand each other, there will be many issues happening in the world and even between the two persons of different nations or parental ethnic groups of the same country or the same country but they are brothers, if there is not any sympathy and understanding, there will be a lot of disagreements. It is the connection between art and science which means that this connection must be like math without errors, full of emotion but not as dry as math, it must be artistic… This is therefore a great combination which is neat to the details."
3. The bravery to swim upstream
2019 is the 13th consecutive year that Shen Yun Performing Arts companies return to perform in major theaters in nearly 150 cities across Europe, America, Australia, and Asia.
Founded in 2006 by Chinese rooted artists, based in New York – United States, Shen Yun Performing Arts with the mission to revive China's 5,000-year civilization through the borderless language of dance and music, has helped millions of audience around the world to experience and explore ancient Eastern culture, moral values and the uniqueness and diversity of one of the longest civilizations of mankind.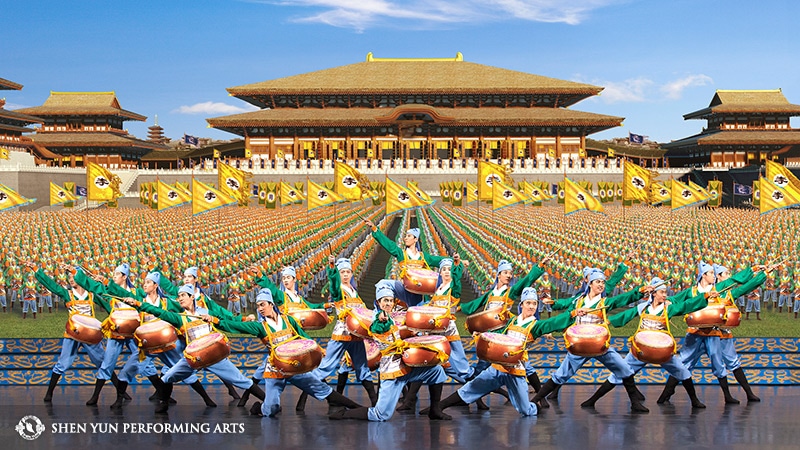 Through dance and music, Shen Yun has conveyed traditional culture, making it possible for any nation's people to fully enjoy its outstanding performances, aiming for excelling values deep in the soul. The dances are choreographed newly every year, conveying rich culture taking audience on a journey to the majestic Tibetan plateau, the long riversides by Thai ethnic villages, or the Mongolian steppe…. It's possibly about the popular anecdote favorites from ancient times to present such as Journey to the West, Legend Nazha and Wu Song hero, or the noble and elevated figures, who still remain as moral examples in tune with modern life, such as the Magnolia (Mulan) heroine, the unbeaten military general  Han Xin, the loyal imposing mandarin Yue Fei Yue Fei.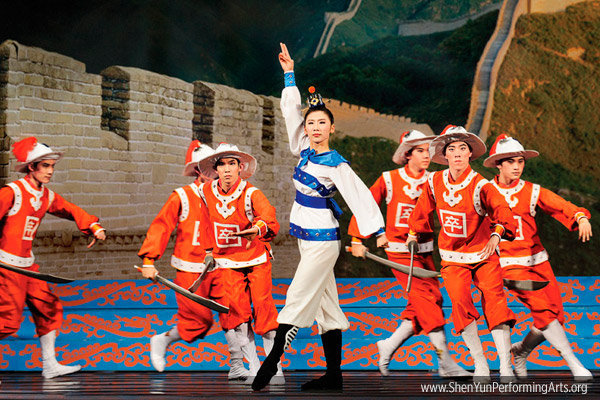 People's Artist Dang Hung shared in the event that:
"Watching the program on 5,000-year civilization, I realized one thing myself, that [they] are going upstream, upstream in a very brave way. While people are looking for a new path, another path, not paying much attention to tradition, they are going into such a path. And it is not a recent tradition, but a tradition in prehistoric time… If there is no people, there is no tradition. Also, without tradition, there is no people, so broaching the subject of tradition is great. I reckon that the subject of tradition broached today is wonderful."
Choreographer, Meritorious Artist Tran Phu "realized that the spirit, the core value of 5,000 year civilization created by Shen Yun with breath of time is very precious."
Children psychology, family and marriage expert, Ms. Nguyen Thi Hang shared a surprising thing:
"The course of reviving the traditional culture that Shen Yun takes is desired by many other countries  who cannot do it, but Shen Yun themselves have made it. What is amazing about them is that they are doing all the things not in their own country but in the distant country of US."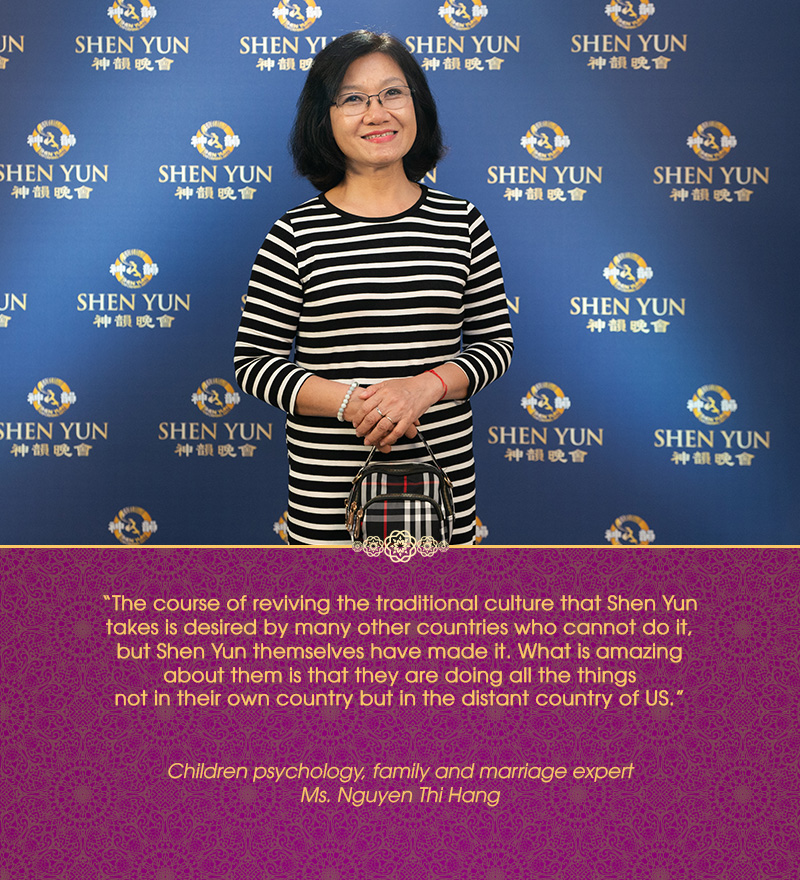 "As a Chinese American living in Vietnam and used to live in California, I felt quite separated from my culture and there were never really something that connected me to Chinese heritage. It's great to come here and watch this great cultural show. I do hope to see [Shen Yun] sometime in the future"– Dancer Nicole Wong shared.
Choreographer John Huy Tran expressed his thoughts on the meaning of Shen Yun's restoring traditional cultural values:
"The show will "open eyes" for everyone, not just because the show is great, dancing beautifully, and the music is awesome, but also because mentioning culture and tradition will remind everyone to think over about themselves and appreciate it more."
Sharing the same views as Choreographer, Meritorious Artist Tran Phu's, but MC Thanh Bach gave a more detailed explanation:
"Those traditional arts have to be lifted up to the age level, however, how to lift it while still retaining their origin and making them more beautiful, more amazing and easier to mutually compassionate and understand among many countries around the world, that is called friendship. And friendship is currently the dream of all humanity. I admire them so much and will be the first one, if the group is present in Vietnam to attend watching."
Looking forward to seeing Shen Yun art with naked eyes
After nearly 2 hours of attending the event, having been introduced to Shen Yun Performing Arts, Mr. Lam Phuong left the auditorium with the feelings of attachment, expectation and hope:
"Actually, until now, I still have the emotions of attachment when I step out of the auditorium."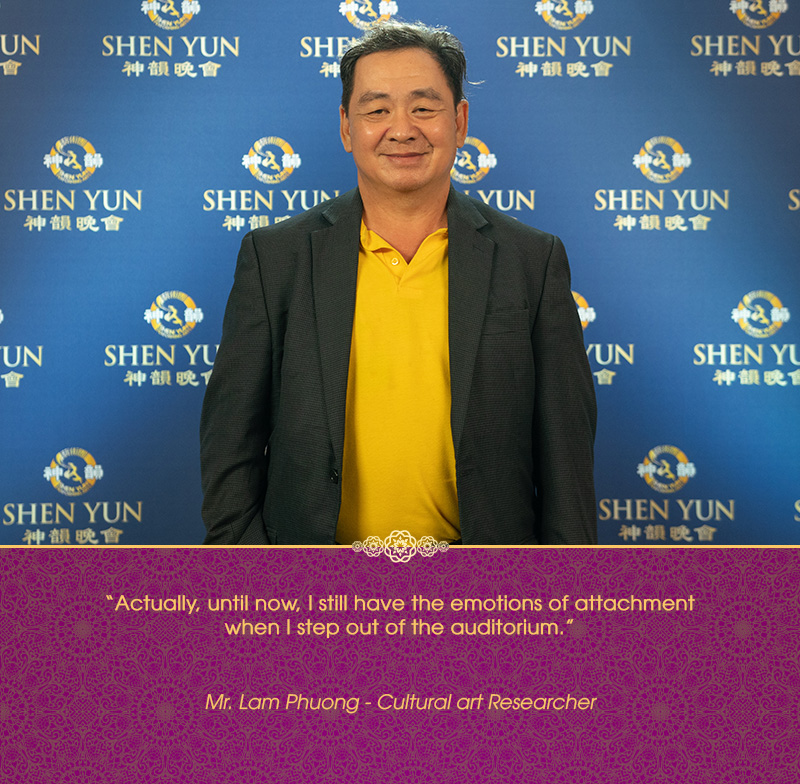 Other guests shared the same feeling that they have gained not only feelings, but also knowledge and other useful things for their work and life. Prof. Dr. Nguyen Duc Cong shared:
"I am very fortunate today to attend the event  introducing about Shen Yun that I should say my eyes and ears were treated to a feast and that I can see life becoming more beautiful, I feel happier and love my life more… Shen Yun's beauty can be said to be wonderful for all human senses, it makes people love their life, desire to live to the fullest and feel their life is so beautiful."
Being a teacher of many generations of Vietnamese dancers, People's Artist Le Ngoc Cuong, former Director of the Performing Arts Department, expressed his special hope to welcome real artists groups to Vietnam for performing. He said:
"I've been teaching about composition and choreography, nearly forty years of teaching until now. For me, there is one more proof to tell my students that there is an art group like that, they should go watch them. I'd like to play a role to advocate for this achievement of the artistic creation."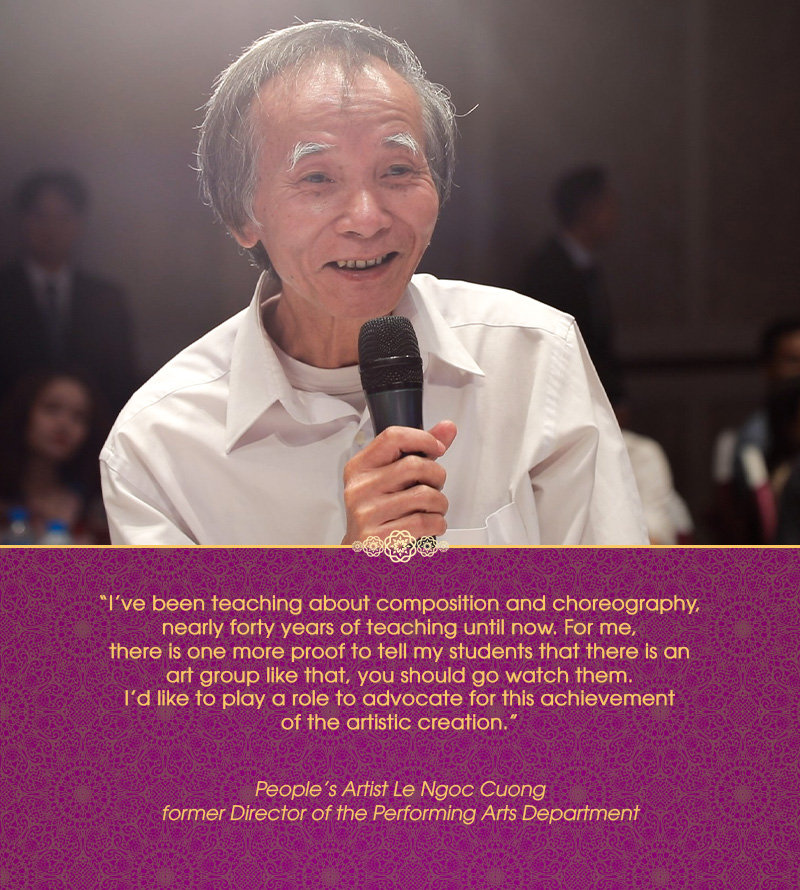 Ms. Nguyen Thi Hang shared:
"Surely anyone who gets the introduction must desire to go see Shen Yun once in his or her life. If there is a miracle that Shen Yun group comes to Vietnam to perform, I, together with my children and family will be the first to come and watch."
Sharing Ms Hang's reviews, many other guests who attended event in the evening of March 27 expressed their desire to see Shen Yun Performing Arts in the near future with their naked eyes, especially in Vietnam:
"It can be said that this is a great program because it brings us a new path of art, that is on the basis of two important factors, one is aesthetics – beauty, and another one is value – wisdom. These values have conquered  the audiences and readers all over the world, paving a new path for art to go"– Mr. Le Quang Trang – Writer, literary critic, Former Chairman of Ho Chi Minh City Writers Association and Vice President of Vietnam Writers Association.
"I do hope for Shen Yun group to be present in Ho Chi Minh City, in Vietnam so that people like us who love culture, love Chinese arts, as well as our people have the opportunity to watch and witness with our own eyes"– Choreographer, Meritorious Artist Tran Phu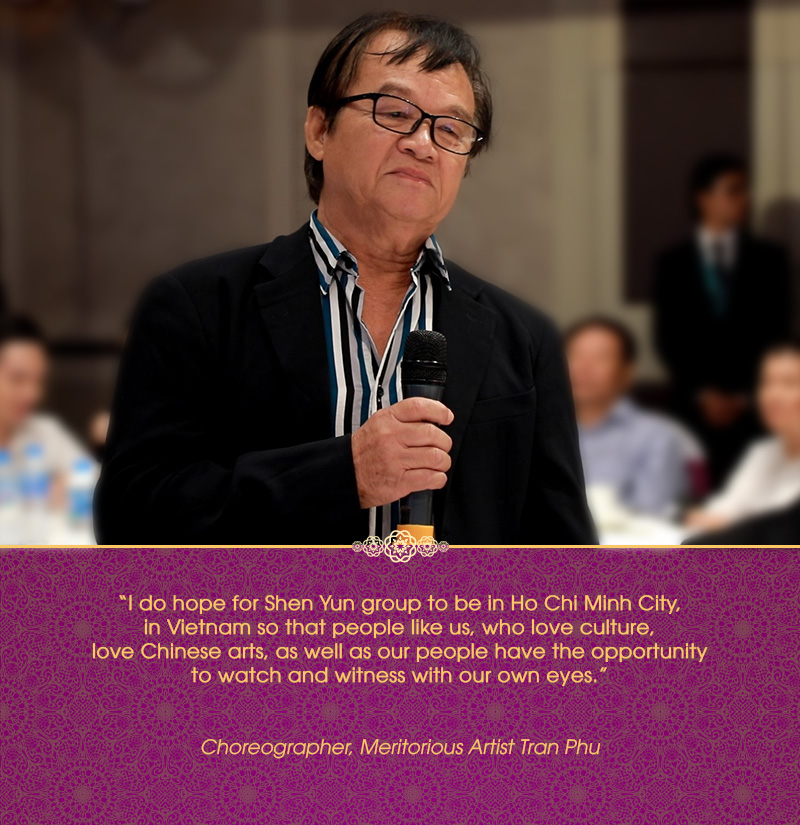 "If there's an opportunity that Shen Yun comes to Vietnam, that will be a very lucky occasion for art lovers to enjoy a grand, big-scale, famous show in the world… I hope that in the near future, Shen Yun comes to Vietnam."- actress, film producer Mai Thu Huyen, General Director of Tincom Media Company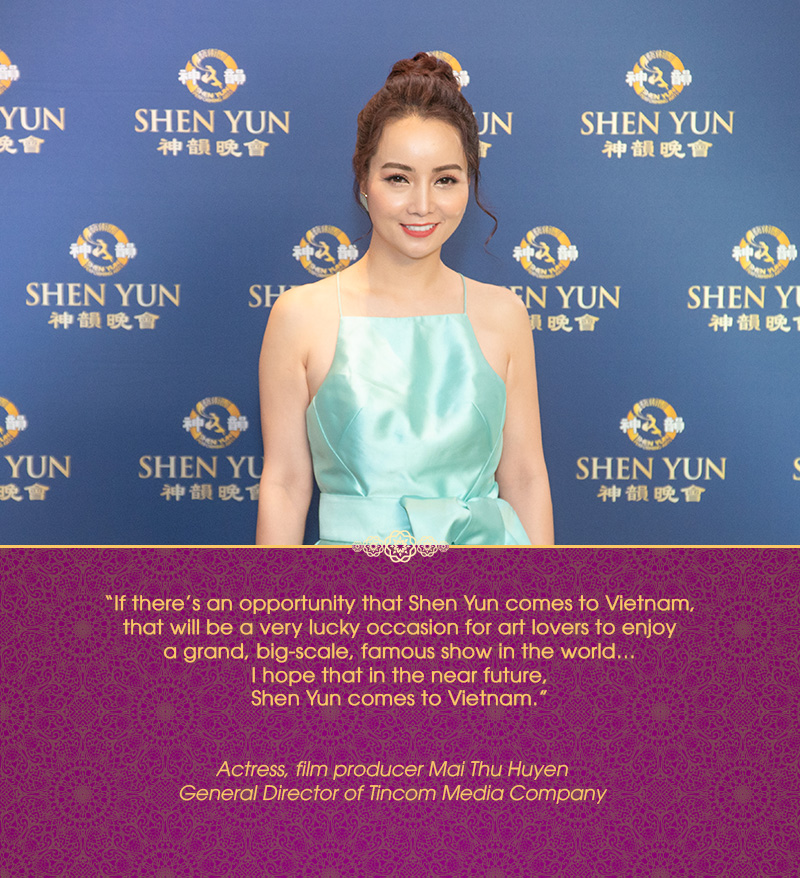 "I'm looking forward to seeing the group coming to Vietnam so that I can watch them, enjoy them, and learn from them, to expand my knowledge, in general. I will introduce to my family members and relatives as well as art lovers for them to come and watch"– Tran Hoa Yen, director of VTV9, Vietnam Television.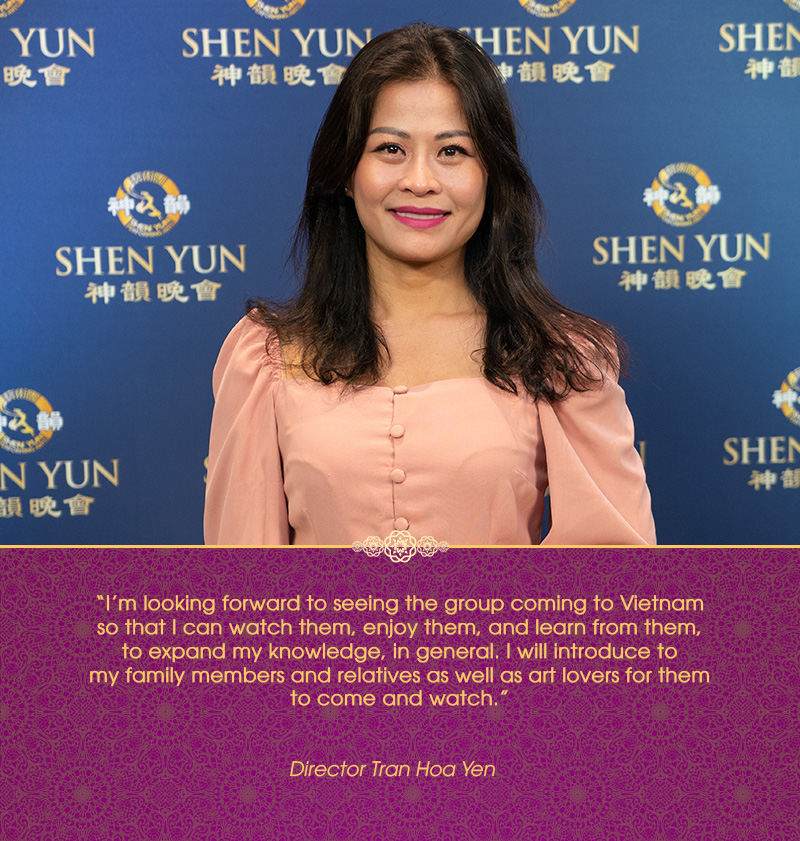 Shen Yun global performance tour schedule in 2019 is available at: https://vi.shenyun.com/tickets?sy=1
Vietnam United State (Viet My) Traditional Culture Company
(Please only repost this content with the consent of Vietnam United State Traditional Culture Company)